Washington Nanofabrication Facility
Events
---
October 1, 2020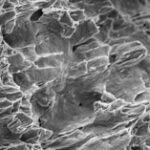 Join us as we celebrate National Nanotechnology Day on October 9th with our colleagues at the Research Triangle Nanotechnology Network (RTNN). We will take viewers on a tour of the WNF clean room and look at some unique samples on a scanning electron microscope. Register today!
---
October 10, 2018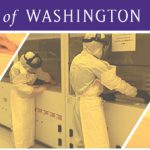 WNF is hosting an open house along with the Molecular Analysis Facility and the Arnold & Mabel Center for Cryo-EM. Come learn about all the resources available at 3 premier UW facilities.
---
September 28, 2018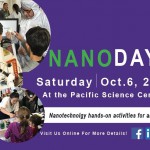 WNF is once again collaborating with the Pacific Science Center to host Seattle's annual Nano Day celebration. Oct 6, 2018 | 10:00AM-4:00PM | Pacific Science Center | Ackerley Family Gallery Come learn about nanotech with fun, kid-friendly and hands-on activities! Meet University of Washington students and researchers who are working to invent the future of nanotechnology. Please note that in order…
---
August 6, 2018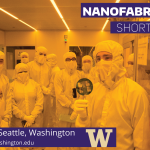 We are excited to announce an upcoming Nanofabrication Short Course at WNF, September 17-21, 2018. Please register here.
---
September 27, 2017
You're Invited! The UW WNF is proud to announce we have collaborated with the Pacific Science Center to bring Seattle's 1st Nano Day celebration. Join us // October 7th, 2017 10:00AM-6:00PM // Pacific Science Center // Ackerley Family Gallery Come learn about nanotech with fun, kid-friendly and hands-on activities! Please note that in order to attend the…
---
September 1, 2017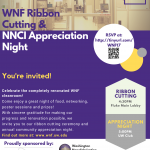 You're Invited! With sincere gratitude for making our renovations and progress possible, the NNCI Facilities cordially invites you to the WNF Ribbon Cutting Ceremony and the NNCI Community Appreciation Night. Join us // October 24th, 2017  WNF Ribbon Cutting Ceremony // 4:30PM // Fluke Hall Lobby While our doors have been open for a while,…
---
April 27, 2017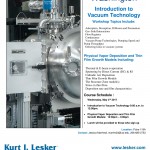 We would like to invite you to the Kurt J Lesker's Introduction to Vacuum Technology Workshop. Date: Wednesday, May 3rd 2017 Time: 9 am – 3 pm (Lunch is FREE and provided by Lesker to registered participants) Location: Fluke 119A Registration: Sign up will occur the morning-of on a first-come, first-serve basis. Registration is limited…
---
April 24, 2017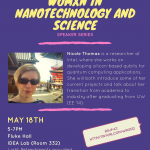 May 18, 2017 // 5pm – 7pm // IDEA Lab {400 Fluke Hall} The WNF is proud to announce our second Womxn in Nanotechnology and Science (WINS) Speaker: Nicole Thomas. Nicole will introduce some of her current projects at Intel and talk about her transition from academia to industry after graduating. Nicole Thomas graduated from the University of Washington Electrical…
---
January 24, 2017
February 2, 2017 // 7pm – 9pm // 119A Fluke Hall The WNF is proud to announce our first Womxn in Nanotechnology and Science (WINS) Speaker: Zhenya Yuferova. Zhenya will speak about her personal experience finding the right career & company, as well as life after graduation in the tech industry. Zhenya Yuferova graduated from the University…
---
December 20, 2016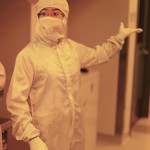 The WNF requests recommendations for speakers for our new Womxn in Nanotechnology and Science (WINS) Speaker Series. Thanks to a generous gift from the Washington Research Foundation, the WNF will launch a quarterly speaker series focusing on women's expertise and career accomplishments in Nanotechnology and Science. Our main goal is to reach out to and…
---
Next page