Washington Nanofabrication Facility
Short Course
Nanofabrication Intensive Short Course at WNF
We offer a one-week survey course to students, faculty and industry professionals, as an introduction to key nanofabrication techniques, tools and methods. This course involves hands-on laboratory sessions coupled with lectures that give participants a more thorough understanding of fabrication technologies as well as firsthand experience using fabrication equipment. Course participants fabricate and electrically test multiple devices on single wafers and make a keepsake sample that represents their newly acquired skills.
Next session
TBD
Participants
Short course participants range from industry professionals and UW faculty to students at both the undergraduate and graduate levels.
Course topics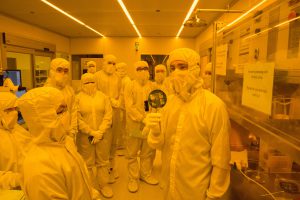 Process flows
Lithography
Metrology
Subtractive technologies
Additive technologies
Surface modification
CAD design tutorial for photomasks
Back-End-of-Line
Packaging
Advanced/emerging technologies
IEEE certificates
The Nanofab Short Course is an official provider of IEEE certificates. Short course participants can obtain 4 Continuing Education Units (CEU) or 40 Professional Development Hours (PDH).